The Best Place To Trade Your Vintage And Reclaimed Furniture
13 listings found in all categories

The flame effect can be used on its own - Providing the visual effects of a fire when heat is not required.
Chesneys Electric Stove Range use the Opti-myst effect, achieved by using ultrasonic technology to create an unbelievably realistic fire effect.
These Electric Stoves also feature authentic looking logs and a glowing ash bed, so combined with the traditional design it really helps to create that 'real log fire' look.
Chesney Electric Fires could not be simpler to fit - All you need is a 13amp socket and you're ready to go!
Dimensions:  D x 24 W x 23 H x 25
Good condition needs new fire logs.
The Chesneys Beaumont Electric Stove is a 2Kw fan heated electric stove, featuring a beautiful and classic design with refined detailing.

Hardly Used! 
If you are in the market for a salamander grill then there is little explaining to do about the quality of this brand. Built to last a lifetime, the Blue seal evolution series is worlds apart in terms of build quality. 
We bought this new for cafe a few years ago for £1600, used it for 3 months then moved to a bigger premises which doesn't have gas and has been stored in our warehouse since. 
Simple job to convert to LPG if necessary for £150
Fully Serviced, very good condition Blue Seal Salamander griller

Lovely main cut ribbed stem, glass pear drop crystals
Stunning large octagon swags dress the lower section with matching crystal pear drops
Excellent working condition with no damage to any drops, comes fully working but all lighting to be checked by qualified electrician
Purchased from new for over £1500. Buyer to collect.
A pair of fabulous large 14 arm clear crystal chandelier – chrome
£550 VAT Free ono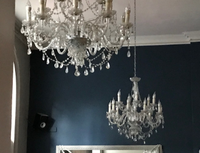 £750 VAT Free Showing 1 - 13 of 13 items