The Best Place To Trade Your Vintage And Reclaimed Furniture
Search
Showing 1 - 3 of 3 items


It's a real heat turner with
Air Conditioning
Full Leather
Panoramic Sunroof
Power Steering
Electric Front Windows
CD Player

More.....
I'm selling this excellent car for a friend of mine. When I took the photos I was tempted to by it for my lovely wife. However no garage or room for the kids put a damper on it!
£8500 VAT Free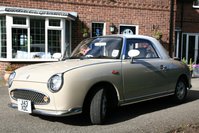 Showing 1 - 3 of 3 items