The Best Place To Trade Your Vintage And Reclaimed Furniture
Search
Showing 1 - 5 of 5 items
---
---

Please note: Price is per unit
Height: 645mm / 25 Inches
Width: 1040mm / 41 Inches
Depth: 195mm / 8 Inches
Traditional cast iron radiator combines both classic and modern styling. The Victorian is a simple column design giving a contemporary feel for a modern setting as well as a tasteful traditional style.
£70 +VAT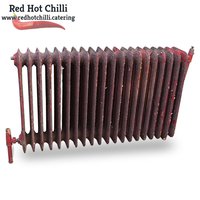 ---

A highly decorative radiator with Rococo flourishes, rounded middle column and a scrolled top. Three columns give a high heat output. King range can be paired with Queen and Rococo styles for a whole-home installation in the same style; all models share the same motif. Pneumatically assembled in Manchester up to 1.1m long for delivery in one piece or up to 2m with partial home assembly. Finished in your choice of colour, we love these rococo radiators in polished finishes, Natural Brass, Aged Gold or Bronze Verdigris. Chatsworth valves add a more antique appearance to the radiators whereas Windsor valves will keep the radiator looking a little more contemporary. Valves not included.
Price is per section. Additional costs will include any selected Finish, Wall Stays, Shroud & Valves.
£36 +VAT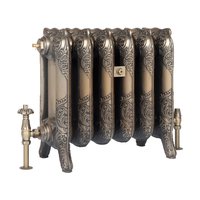 An ornate radiator with a scrolled top. With intricate Rococo motifs and a depth of just 140mm, Rococo is a slimmer, space-saving alternative to the King and Queen ranges. 560mm tall, 140mm deep. Available in three heights and built to order at any length up to 2m. Suits Victorian properties or older. We love this model finished in Satin Polish and paired with Chatsworth valves in Black Nickel for a statement piece, in Natural Brass with Windsor valves for a more classic appearance or in Bronze Verdigris for a real talking point.
Sections
Our bespoke radiators are custom built section by section to give the correct heat output. You will be required to select the number of sections for the length and heat output that you need.
Click here for more info and contact details......
Rococo Cast Iron Radiator (560mm)
£22.80 including VAT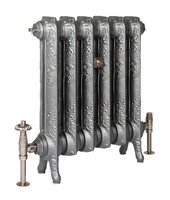 Showing 1 - 5 of 5 items